Snoring is a problem that can be of discomfort to not only the snorer but to anyone in the vicinity. Most people can attest to the nuisance that comes with sharing a bed or room with people who snore. It can mess with you and your bed partner's sleep patterns, leaving you dizzy and irritable upon waking. One of the remedies for snoring is using a humidifier, and this article is aimed at helping you find the best humidifiers for snoring.
Everyone snores now and then and it's usually not something to be concerned about. However, when a person starts snoring more frequently, it becomes something to look into.
Sleeping in a room with warm, dry air is a common cause of snoring, and this can be easily remedied by getting a humidifier. A humidifier makes the air moist and cool and helps prevent swollen nasal tissues.
Before trying any remedy for snoring, the cause must be known. Sometimes snoring can be an indication of obstructive sleep apnea (OSA), and you should get the best humidifier for sleep apnea or see a doctor if it worsen.
Also read: Best humidifier for nosebleed
What is the main cause of snoring
It is advisable to know the cause of your snoring to identify the appropriate treatment for it. Various risk factors contribute to snoring. For example, 44% of men between the ages of 30 and 60 years are snorers while the percentage is significantly lower in women. Also, overweight people, smokers and people who take alcohol are more likely to be snorers.
The major cause of snoring is when air is not permitted to flow freely when sleeping. This can be traced to the narrow airways of the mouth and nose thereby leading to disturbing sound as the air manages to pass through inside and outside as shown in the picture below.
Any of the following can also cause snoring,
In some people, the muscles of the tongue and throat might be too relaxed, and this can lead to them collapsing and narrowing the airway. When this happens, the air coming in obstructed and this leads to an increase in vibration. Sleeping on your side is advised if this is what causes your snoring as sleeping on your back can aggravate your snoring. Throat exercises can help to strengthen the muscles to avoid collapse
Nasal deformities such as a deviated septum and nasal polyps can obstruct the airways.
Having a low, soft palate can limit the passage of air. Airflow can also be constricted if the uvula (the fleshy tissue that hangs from the back of the palate) is elongated.
Do you only snore during allergy season? Are your nasal airways always congested? This is the commonest causes of snoring. There are antihistamines and nasal sprays that can help relieve these symptoms. Another effective way of getting rid of the discomfort is by using a room humidifier. These devices release moisture into the air, and that helps relieve these symptoms
Unhealthy lifestyle choices
When a person is overweight, excess fat tissues can surround the airways which can cause obstruction. Losing weight and eating healthy can significantly reduce the risk of snoring.  People who drink and smoke are at high risk of becoming snorers. Stopping both habits can go a long way to reduce the frequency and intensity of snoring.
Snoring can be an indicator of certain conditions like obstructive sleep apnea and type 2 diabetes, so it is advisable to see a doctor to rule out any genetic links to these conditions.
Also Read: Best humidifier for infants
Top 5 best humidifier for snoring
Special Features: Quiet care technology, Humidity monitor, germ killing chamber, whisper quiet, easy fill tank.

The Honeywell HCM3B germ-free cool mist humidifier is an evaporative humidifier that is good for small and medium-sized rooms. The 1-gallon tank has a running time of 24 hours on low setting. At just 9 pounds this humidifier is also very portable and has an output that exceeds its size.
It uses air filters that have to be cleaned at least once a week. The filters have to be changed often to avoid buildup of mold, and they can easily be found online.
It has a humidity monitor that displays the temperature and relative humidity of the room. This and its quiet care technology make it suitable for small children, babies, and light sleepers. With this humidifier, you have complete control of your experience.
The Honeywell unit comes with an easy to fill the tank and a protec cleaning ball which keeps your humidifier cleaner longer. It comes with UV technology that kills up to 99.9% of the bacteria, mold, and spores in the water. This means you can save money on distilled water as tap water can be used. This unit is also very easy to clean and doesn't take up much space.
It is straightforward to use and very durable. It is a top unit for its price and has a three-year warranty.
Special features: Whisper quiet, 500 sq. Ft. Coverage, 360° lid, auto off.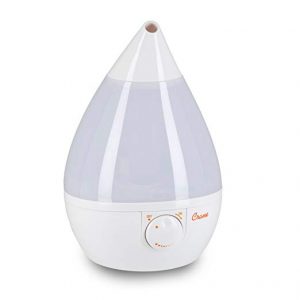 The crane cool mist humidifier is a stylish, moderately expensive model. One advantage is that it doesn't require an air filter to function. It is an ultrasonic cool mist humidifier for snoring that is whisper quiet and very effective in larger spaces. It has a 1-gallon tank and can run for up to 24 hours. The tank fits in most sinks which makes it easy to fill.
The crane unit only weighs about4.5 pounds which makes it a very portable and easy to use model. The elegant design makes it a good choice if you want to add a touch of beauty to your room.
This unit contains anti-microbial materials that can reduce the growth of mold and bacteria by up to 99.96%. This, in addition to its whisper quiet feature, makes it a favorite for snorers, babies, and light sleepers.
The crane unit has an auto off the sensor which shuts it off when the water level is low. This is useful in avoiding electrical fires. It also has a 360° lid which means you can direct the mist to where you want it to go. These features make the crane humidifier one of the top humidifiers for snoring in the market.
Special features: Optional night light, auto-off feature, 1.5l tank.
The pure enrichment cool mist humidifier is one budget-friendly unit you won't regret buying. This small and portable device has a stylish outer design, and it is easy to use and effective. It has a 1.5l tank which means fewer trips to the sink for you. It weighs 2.27 pounds which makes it very portable. It has a running time of 16 hours on the low setting and an auto-off feature which means you can use it all night without fear of refilling.
This device is fitted with a 360° mist nozzle which makes it easy to direct the flow of cool mist to wherever you desire. It's easy to fill water tank makes refilling this tank a breeze. It is straightforward to clean and comes with its cleaning brush. It is most effective in medium-sized rooms and offices.
One brilliant feature it possesses is the night light feature. The glow is low enough that it soothes you rather than interrupt your sleep. The best part of this is that this feature is optional for those that prefer to sleep in darkness. This device is indeed worth its price, and you won't have to break the bank to get one.
Special Features: 4.5l large tank volume, one-touch control, Aroma box, Timer.
The Levoit unit is one of the best humidifiers for snoring out there in term of functionality and price. It has a large tank capacity which makes it able to run for up to 36 hours at a stretch, and it is also very quiet. Its 3-inch wide tank opening means you can refill the tank with no fear of spills. It also makes it very easy to clean and fill. It also has a conveniently placed handle for easy lifting.
This device has a 360° elevated mist nozzle which disperses the cool mist better into the air in any direction of your choice. The Levoit has a one-touch control meaning you can easily switch between the three levels at the touch of a button. This makes it ideal for medium to large rooms. Its filterless technology makes it super quiet and baby-friendly.
The distinguishing feature this device has is the aroma box. This lets you use your humidifier as an aroma diffuser.
Special features: Unique square design, seven color night light, aroma diffuser.
Are you looking for a humidifier that doubles as an aromatherapy diffuser? Then the urpower diffuser humidifier is the one for you. With its unique square design and seven different mood lights to choose from, this device is a good choice for those that value style.
This unit has a water tank capacity of 700ml, and it can run for 20+ hours at once in low mist mode. It also has an auto-off feature, so you don't need to bother about keeping an eye on it. It can also be timed according to your needs.
The tank has a lid that you just lift and refill, so that makes it easy to fill and clean. To use this as a diffuser, you just put a few drops of essential oil into the tank with the water.
Also Read: Best humidifier for coughs
Snoring and humidifier: what is the relationship
Although snoring is a common and rarely dangerous condition, but snorers can testify to the discomfort snoring can cause. From sleep deprivation, irritability, interruptions of breathing, light sleeping and frequent waking from sleep. It can also affect a snorer's bed partner. It can even lead to a poor attention span and poor performance in school for children.
Humidifiers have been found to make sleeping easier for snorers. A humidifier is a device that is used in increasing the amount of water vapor in a room. They make the air of a room moist with an either cool or warm mist. This helps in easing the breathing and generally making sleep easier for you.
The humidifier does the following
When the air is dry, especially during winter, the lack of humidity can dry out your skin, and mucous membrane and that can cause difficulty in breathing and nasal congestion. A humidifier adds water vapor into the air to increase humidity. They are good for relieving nasal congestion which can lead to coughing and snoring.
They can help ease a sinus infection which causes snoring.
They can sometimes be used as aroma diffusers. You can put a few drops of essential oils into the section made for them, and the aroma gets dispersed into the air along with the cool/warm mist. Be sure to pick a humidifier for snoring with that feature because putting essential oils in the tanks of most humidifiers can damage them.
Factors to consider when choosing the best humidifier for sleep apnea and snoring
Cool or warm mist humidifiers: 
Cool mist humidifiers are good for use all year round, especially in places with a warmer climate. The cool mist humidifier distributes room temperature humidity in your room, not necessarily cool mist. Though, this can make the temperature in your room fall a few degrees. It is best used during periods when temperatures fluctuate.
Warm mist humidifiers heat water and distribute the heated vapor into the air. This is very useful especially during wintertime as it keeps the air warm and moist.
If you're having problems with choosing what kind of humidifier you want, you might want to go for a model that has both options.
Humidity levels should always be kept between 30% and 50% as higher levels can become breeding grounds for mold, bacteria, etc.
Humidification coverage area
If you intend to use your humidifier in your bedroom only then it's best you use a small one. Ideally, the coverage area of the humidifier should slightly exceed the area of the room where it will be used. This means you might want to look for a bigger humidifier if you're going to use one for your whole house.
The tank capacity of most humidifier range from 0.9 gallons to well over 6 gallons. This should tally with the intended coverage area. For example, a humidifier with a water tank capacity of 1 gallon may not give you the same result if used in a room of 500 sq. Ft. As that of 300 sq. ft.
Also, getting a small tank in a large room will lead to constant refilling of the container which can be avoided.
Easy to use, clean and refill
This is an important factor because if a tank is left dirty, it can aid the spread of germs in the air which can cause complications in breathing. You wouldn't want to spend so much time refilling the tank or finding out how to operate it.
The manufacturer usually states the duration which humidifiers can stay running. Usually, it has to do with the size of the tank and the functional setting.
Ultrasonic humidifiers are generally quieter than evaporative humidifiers. If you're a light sleeper, then you should go for the silent models.
Features such as night lights, air filters, essential oil pads, are stated by the manufacturer.
Also Read: Best humidifier for croup cough
Final verdict: Best humidifiers for snoring and sleep apnea
Out of all the humidifiers we reviewed, the Levoit cool mist ultrasonic humidifier came out on top. This humidifier gives the best value for its price. It has a large tank; it is easy to clean and refill. It can also be used as an aroma diffuser. It is very quiet, suitable for babies and its mist levels can be easily changed according to your preference.
The Pure enrichment ultrasonic cool mist humidifier had a good chance as it is also budget-friendly, but we picked the levoit because it has all the features pure enrichment has with the bonus of having an aroma box. If you're not too keen on having a diffuser/humidifier, then the pure enrichment unit is your best choice.
Meanwhile, for those that don't mind paying more for beauty and style can go for the Urpower diffuser aromatherapy humidifier.
Important Read: